A Mailfence group allow users to share mailbox, documents, calendar, contacts and perform instant chatting with group members. Group administrator can define specific access rights per user and per tool (read, write). Total number of items and storage of each group is based on group administrator subscription plan.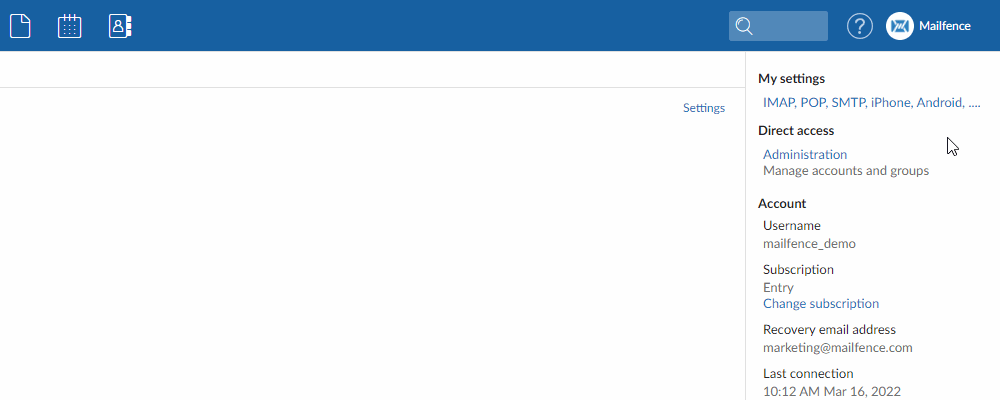 For more information about group functionality on Mailfence, check out the announcement on our blog.
A group provides you the following:
Private space: The allotted capacity of all the tools/features based on your subscription plan.
Group space: An extendible capacity that can be claimed either by creating a group (administrator) or joining other groups (member). Group space remains private as long as you do not add any group member.
Please check tables below for details on Private and Group space (extendible up to the number of created/joined groups) for each of the subscription plan.
FREE plan
Private
Group administrator
Group member
Messages
5000
(number of messages)
500 MB
(total storage)
–
Can access 10 shared mailbox
Documents
1000
(number of documents)
250 MB
(total storage)
1000 * 1
(number of documents)
250 MB * 1
(total storage)
Can join 10 groups: document tool
Calendars
1000
(number of events)
1000 * 1
(number of events)
Can join 10 groups: calendar tool
Contacts
1000
(number of contacts)
1000 * 1
(number of contacts)
Can join 10 groups: contact tool
ENTRY plan
Private
Group administrator
Group member
Messages
50000
(number of messages)
6 GB
(total storage)
–
Can access 20 shared mailbox
Documents
5000
(number of documents)
5 GB
(total storage)
5000 * 5
(number of documents)
5 GB * 5
(total storage)
Can join 20 groups: document tool
Calendars
10000
(number of events)
10000 * 5
(number of events)
Can join 20 groups: calendar tool
Contacts
5000
(number of contacts)
5000 * 5
(number of events)
Can join 20 groups: contact tool
PRO plan
Private
Group administrator
Group member
Messages
300000
(number of messages)
30 GB
(total storage)
Can share mailbox with group members
Can access 20 shared mailbox
Documents
10000
(number of documents)
6 GB
(total storage)
10000 * 7
(number of documents)
6 GB * 7
(total storage)
Can join 20 groups: document tool
Calendars
50000
(number of events)
50000 * 7
(number of events)
Can join 20 groups: calendar tool
Contacts
10000
(number of contacts)
10000 * 7
(number of contacts)
Can join 20 groups: contact tool
ULTRA plan
Private
Group administrator
Group member
Messages
500000
(number of messages)
60 GB
(total storage)
Can share mailbox with group members
Can access 50 shared mailbox
Documents
20000
(number of documents)
15 GB
(total storage)
20000 * 10
(number of documents)
15 GB * 10
(total storage)
Can join 50 groups: document tool
Calendars
100000
(number of events)
100000 * 10
(number of events)
Can join 50 groups: calendar tool
Contacts
30000
(number of contacts)
30000 * 10
(number of contacts)
Can join 50 groups: contact tool