Install the Mailfence mobile app on iOS (iPhone, iPad)
In order to download our mobile app for iOS please follow these steps :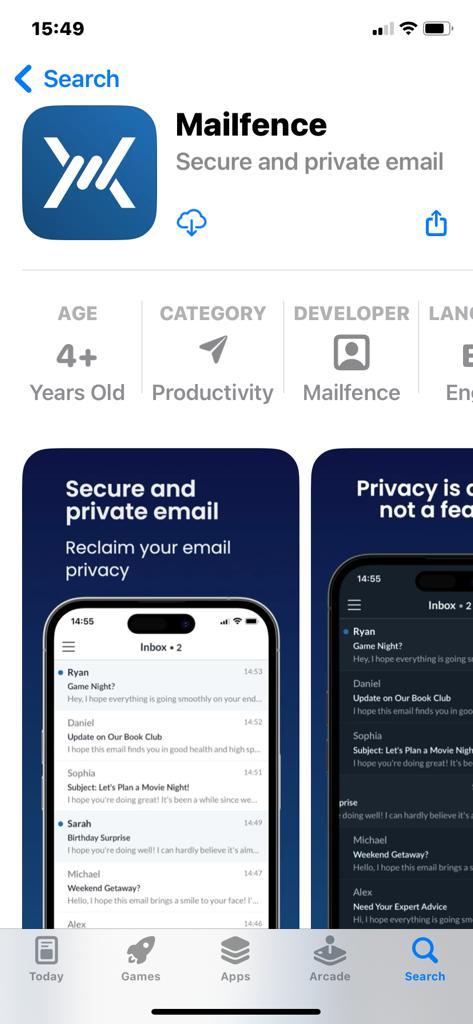 Install the Mailfence mobile app on Android
In order to download our mobile app for Android, please follow these steps :
If you do not want to use the Google Play Store to download our open source mobile app, you can download the APK file (Android, HarmonyOS) and install it yourself by following these steps :
Go to the Mailfence github repository containing the latest release of our mobile app and tap the link to download the APK file. Accept any pop-ups, including "This type of file can harm your device."
If your phone's web browser doesn't give you the option to open the file after downloading, open your file explorer app, go to the Downloads folder, then click on the APK file.
Give the app the required permissions Then, at the bottom of the window, click Install.
The app will appear in your list of installed apps.
Limitations of the APK version
If you download the APK file you will not be notified of updates of our app. Please check our Github page or release notes regularly in order to be informed of new releases of the mobile app.
Please be aware that the APK version will not support message notifications while the version downloaded via the stores will.
Please note:
You do not want to install our mobile app via the app stores of Google and Apple? No problem: Use our progressive web app or connect your Mailfence account with an email client on your phone using SMTP-IMAP-POP3 or mobile sync. If you are on Android you can also install the APK file as described above.
Are you having issues with the Mailfence mobile app? Contact our support.
Please mention the following details when experiencing problems with the app:
What kind of device are you using?
Name of your operating system (e.g., iOS, Android) and its version.
What problem are you encountering?