Mailfence Groups allows you to collaborate with friends, family, or colleagues. In this article, we will show you all of the features of Mailfence Groups.
Groups create a link between multiple users. Once a group is created there are 3 possibilities.
Ability to share data in a common workspace: Group Calendar, Group Documents and Group Addressbook.
Chat via our instant messaging feature
How to create a group
Go to Settings.
Click on Groups in the left column (bottom of the screen).
Click on Create a new group.
Choose a unique group name.
You can enter a description, that will inform the members about the group purpose and/or the content.
Click on Create to create the group.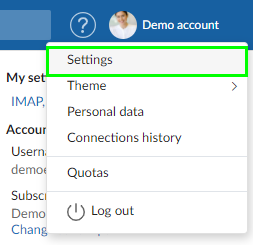 Invite members
Click on Invite.
Select members among Contacts: existing group members, private contacts, or group contacts.
If future members don't appear in the Contacts, create them by clicking on Create New Contact.
Members get an invitation email. They have to accept the invitation to join the group.
People who have accepted the invitation appear in the group members list.
To send a reminder to people who haven't answered the invitation, go to the Pending invitations section, and choose Send again in the Actions for this person.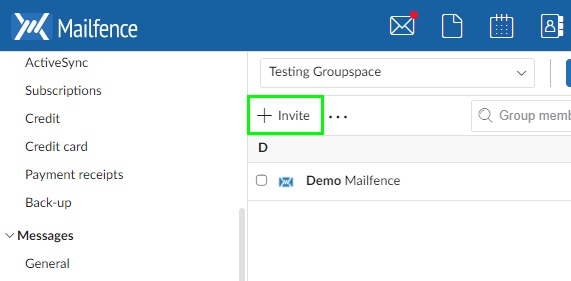 Add group members via the admin console
If you are an administrator you may create groups and add members to your groups directly from the Admin console
Note: When you add group members to your groups via the admin console, group members are forced into the group and they do not receive an invitation.
Go to Settings -> Administration -> User groups
Create a group or add members
Access a group workspace
Go to the tool of your choice: Calendar, Documents, Contacts.
Select the group name in the context selector, the default value is "Private".
You now see all group data that is shared with all other group members.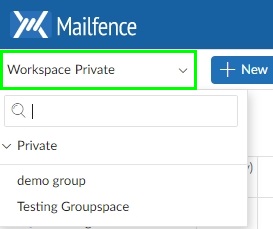 Give access rights to group members
By default, the group administrator is the only one allowed to add content to the group environment.
The default access rights are that group members can see all the folders and data shared in the group but cannot add or delete anything. Learn more about access rights.
If you are the administrator of the group and want to give access rights to group members:
Go to the tool of your choice.
Right-click on your Groupspace
Select Access rights
Click on Add and give Access rights to your group members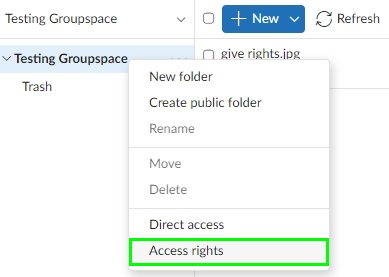 If you have difficulties with the group features please send us an email at support[at]mailfence.com