Yes, we do support having your own custom (or vanity) domain-based address(es) in paid plans. Please check this blog post for more information.
Entry plan offers 1 domain to be added/managed, whereas Pro plan offers 5 and Ultra plan offers 7 domains to be added/managed using domain adding wizard.

Please be notified, that the domain foo.example.com and example.com will be counted as two separate domains, each with its own DNS records.

Before adding a custom domain, please make sure that you have already chosen a primary address (in Messages) for your Mailfence account.

Emails sent to postmaster@example.com will arrive in the mailbox of example.com domain owner.
Emails sent to abuse@example.com will not arrive in the mailbox of example.com domain owner. This address is reserved for anti-abuse reasons.

In case if you would like to replace your Mailfence account primary email address to your domain-based address, then:
1. Go to Settings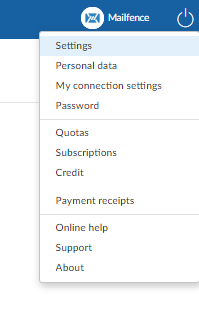 2. Administration -> Users

3. Click on your account listing (with the tag Administrator)

4. Under E-mails, click on Edit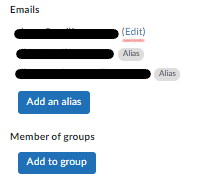 5. Set the new primary e-mail address and choose your domain, then click on Save

All of the new emails coming to the old email address will be refused. Make sure to inform your contacts about the change of address.
You can assign your existing @mailfence.com e-mail address as an alias if you like.
In case you need to set-up a catch-all address for your domain, then send an email to support@mailfence.com with your login name and the desired catch-all address (e.g., catchall@mydomain.com).
After adding your domain, please don't forget to set anti-spoofing measures (SPF, DKIM and DMARC entries) for your domain.
You can also create/manage other user accounts, and assign the email address(es) based on your custom domain.